Category:

Featured, News, Uncategorized
Title:

"Refugee Experts Express Hope for Refugee Resettlement in America" By Anne Richard
Date Published:
January 10, 2020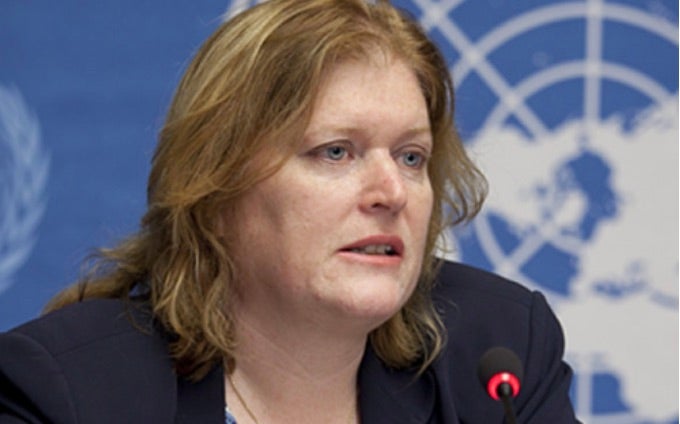 As the moderator of a panel on "The Future of U.S. Refugee Resettlement Policy" at the "Current Challenges in Refugee Policy" conference, I asked a stellar lineup of experts the sad question: Is there a future for Refugee Resettlement in America?
They and I knew that the number of refugees being resettled in this country has dropped drastically under the Trump administration. The average of refugees resettled annually was 95,000 refugees per year. The administration had steadily reduced the numbers arriving every year and recently announced it would bring only18,000 refugees to the United States in FY 2020.
Jen Smyers, director of policy and advocacy for the immigration and refugee program with Church World Service, pointed out that 18,000 is an historic low point for the program and pronounced the Trump policy "shameful," noting: "this is being done in the worst displacement crisis that the world has ever seen….There are more than 70 million people who are displaced across the globe, including more than 25 million refugees."
Jenny Yang, vice president of advocacy and policy at World Relief, reported, "Last month in October it was the first month in over 30 years that we didn't receive a single refugee, which is a startling statistic."
All of us recognized that deep cuts in the numbers of refugees would translate into resettlement offices being forced to shut down across America. These closures would mean letting staff go, reducing services to refugees already here, cutting long-term relationships with schools, employers and landlords—and would be exceedingly hard to reverse. They would also prevent the reunification of refugee families that have been separated.
I figured the panelists were, like me, utterly demoralized. So, I was taken aback when each panelist in turn talked about the energy now being devoted to defending the program and fighting back against efforts to kill it.
Smyers mentioned a three-pronged approach, based on (1) rebuilding bipartisan support in Congress, (2) organizing at the local level so that refugees can share their stories with Congressional district offices, and state and local officials, and (3) escalating tactics, such as a recent protest and coordinated act of civil disobedience at the U.S. Capitol, which included the arrests of 18 leaders, including Amnesty International USA Executive Director Margaret Huang and yours truly. Jen mentioned the Bipartisan Congressional Refugee Caucus in the House of Representatives and multiple letters signed by both Republicans and Democrats in the U.S. Senate as evidence that the White House did not speak for all elected officials.
Nazanin Ash, vice president for public policy and advocacy at the International Rescue Committee and a visiting policy fellow at the Center for Global Development, shared how over 100 pieces of anti-refugee state legislation have been defeated. At the federal level, support is building for legislation like the GRACE Act, Lady Liberty, and the NO BAN Act. "We have a number of pieces of legislation that have Congress stepping in to legislate a floor for refugee admissions that's in line with the historic average of 95,000," Ash said. "It's got over a quarter of the Senate as co-sponsors already and it's approaching 90 co-sponsors in the House."
Ash went on to describe growing numbers of advocates. "Alongside traditional community organizations and faith groups…," she said, "what's been wonderful to see are strong and emerging partnerships with business, strong and emerging partnerships with the national security sector. These new sectors that…declare their support and talk about how the refugee admissions program benefits business, makes America stronger, promotes our values, and serves our humanitarian leadership goals, and our strategic interests." She went on to describe a network across the country in red, blue, and purple states which is now approaching 250,000 people. The states where she sees the largest constituencies of advocates include Texas, Florida, Arizona, and Idaho.
"Trends are totally turning in our direction," Ash says.
Jenny Yang explained the work World Relief is doing with evangelical churches in many communities across the United States. Over 1,400 local volunteers that have signed up as Good Neighbor Teams that are "walking alongside" these refugees that are coming in, and helping them transition into their communities. In 2017, more than 9,000 evangelical pastors signed on to a World Relief petition supporting refugees. World Relief later issued a letter showing evangelicals in every state in the country support refugees and immigrants.
"Matthew 25 calls us, that when we welcome the stranger, we're actually welcoming Jesus himself," Yang said. "I think many Christians take that to heart when they welcome the refugee, to know that we are actually welcoming angels unaware and demonstrating hospitality in a way that demonstrates the best of our faith."
Naomi Steinberg is vice president for policy and advocacy for HIAS, an organization that got its start nearly 138 years ago helping Jews fleeing pogroms in Russia. She decried the deadly attack on the Pittsburgh Tree of Life Synagogue in 2018—carried out by an anti-Semite opposed to refugee resettlement—and spoke about the faith fueling the work of HIAS: "In the Torah there are references 36 times to welcoming the stranger. That is the most frequently mentioned rule, if you will, in the entire Torah….As we like to say, 'We used to help refugees because they were Jewish, and now we help refugees because we are Jewish.'"
Steinberg reported that more than 430 congregations across the country are part of HIAS' Welcome Campaign and committed to helping to support refugees and asylum seekers. A dozen coalitions of Jews around the country are doing grassroots advocacy organizing. In August, 500 activists met with more than 50 congressional offices. "When we are speaking with more conservative offices," she said, "we talk about the economic contributions that refugees bring to this country, we talk about the deep security benefits that refugee resettlement means for this country, and what it means when we are retreating from refugee resettlement leadership, when we are leaving our allies high and dry, what that means when we are rolling up the welcome mat, but there are literally millions of refugees in Jordan and in Lebanon and in Bangladesh."
Yang noted that the Trump administration has promoted international religious freedom. "In order to have a robust religious freedom agenda, you need to have a robust refugee resettlement program that protects some of the most vulnerable who cannot actually return home." She gave the example of World Relief resettling 20 Yazidis this year—a significant drop from 400 Yazidis resettled in the past few years.
Before concluding, Ash encouraged audience members to sign a petition for the GRACE Act on the IRC's website or at the website of another coalition member.
"I really do have a lot of hope," said Ash, "and that's in no small part due to the panel I'm sharing here with this group of really extraordinary women, and their really extraordinary organizations and communities and constituencies that they represent, and the way in which this community has come together and has joined forces with broader advocacy groups, human rights, immigration, business, military, a growing constituency of grass tops and grassroots, who have been given the opportunity in this oppositional environment to plant their flag for refugees and for humanitarian leadership, and they really are."