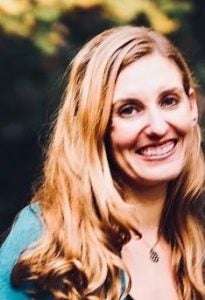 Dear friends of ISIM,
We are deeply saddened to share with you the almost inconceivable news of the sudden passing of Lara Kinne from an apparent brain aneurysm. Lara was 34 years old, mother of an 8-month old daughter, Elena Clare, and loving wife of her husband, Mark Dickas. Professionally, Lara had a passion for refugee and immigrant rights. Personally, she was warm, vibrant, generous with her time, and always willing to be there for friends and colleagues alike. She will be sorely missed.
Lara was a graduate of Boston College, with a B.A. in Political Science and a minor in Latin American Studies. Here at Georgetown, she earned her Master of Arts in Latin American Studies, as well as a Certificate in Refugees & Humanitarian Emergencies.
After her graduation, Lara served as a Research Project Manager for the Institute for the Study of International Migration, as well as the Office of the Senior Vice President for Research. She worked on numerous projects, including studies on ways big data could be used in projecting forced migration, the environmental impact of and natural resource use in refugee camps, and unaccompanied minors on the U.S. Mexico border. Most recently, she had worked as a senior program associate for the Latinos & Society Program at the As
pen Institute.
Friends of Lara's have started a meal train for Mark and Elena to ensure they have food when they need it. They are staying with dear friends, Lauren and Joe, so the meal train is for all 3 adults and both of their 8-month-old babies. The organizers of the meal train have included information on restaurants that deliver for all of the out of towners, as well. If you are interested in contributing to the effort, you can sign up at this link: https://mealtrain.com/g4d5vl
Lara will be missed by all who knew her. Our thoughts and prayers are with Mark and Elena in this difficult time.