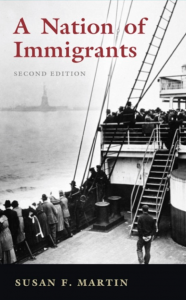 April 12, 2021| 4 p.m. – 5 p.m.
Please join us for discussion of the second edition of Susan F. Martin's book, A Nation of Immigrants (Cambridge University Press). This book traces four centuries of US immigration history and includes discussion of both President Obama's and President Trump's use of executive orders. Martin argues that despite the long US tradition of attracting immigrants, immigration has always been a politically contentious issue.
Comments will be offered by Elizabeth Ferris, Research Professor at ISIM. Katharine Donato, Director of ISIM and Donald G. Herzerg Chair of International Migration, will moderate.
Susan F. Martin was the founder of Georgetown's Institute for the Study of International Migration and currently services as Professor Emerita. Previously she served as Executive Director of the U.S. Commission on Immigration Reform. Prior to that, she served as Director of Research and Programs for the Refugee Policy Group, a Washington-based center for analysis of US and international refugee policy.