Title:

Keynote Address: "The Essential Role of Academic Research and Civil Society Action in Taking the Migration Agenda Forward"
Date Published:
April 30, 2022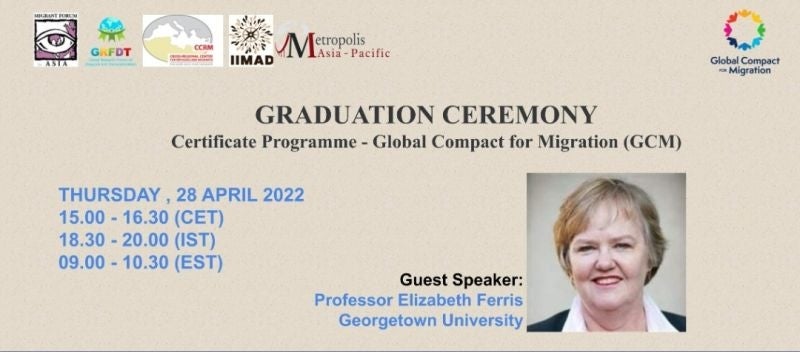 Keynote address to the graduation ceremony of the Certificate Programme on the Global Compact for Migration, in which students from over 50 countries participated in 23 sessions on each of the 23 GCM objectives.
Thursday, April 28, 2022
Thank you for this opportunity to address the graduation ceremony of the online Certificate Program on the Global Compact for Migration. I understand that you have engaged in 23 thought-provoking sessions around each of the 23 commitments in the GCM – and I suspect that you know more about the GCM than many governments who have endorsed it! You are in a unique position as a cadre of academics and civil society organizations to support and monitor and observe and analyze what is going on with the GCM in the years ahead. And I'm sure that you are well-prepared to follow developments closely with next month's International Migration Review Forum (IMRF). Congratulations to each of you for completing this rigorous course on one of the  most important issues of our time.
You know – I was involved in the very beginnings of the GCM, working at the UN in 2016 for a year to help prepare the Global Summit on Refugees & Migrants and to draft the UN SG's report 'In safety and dignity: addressing large movements of refugees and migrants.' I remember how we talked – listened really – to so many meetings with governments, UN agencies, and civil society organizations. While the idea of a Global Compact on Responsibility-Sharing for Refugees was an idea floating around in early 2016, it was the efforts of civil society groups, migrants' and diaspora associations, and a few governments that led to the idea of developing a compact on migration.
Working on the precursor to the GCM and the GCR was a wonderful experience and a learning opportunity to see from the inside view on how these initiatives emerge. It has been gratifying to watch from further afield as the GCM was negotiated and finally adopted in late 2018. And like everyone, I am curious to see the results from the International Migration Review Forum in a couple of weeks. Civil society groups played an essential role in shaping the GCM – as Stefan Rother points out, civil society participated in what he calls 'invited events' – consultations organized by others — but also developed their own for a for crystallizing the issue – what he calls 'invented events.' Both of these types of civil society engagement served to strengthen the GCM. Overall, I think the GCM is a brilliant document, particularly given the lack of global frameworks on migration and I am in awe of the facilitators who so carefully negotiated the sometimes contentious issues of upholding migrants' rights and governments' concern with managing – controlling borders. Without civil society input at every step of the way, I wonder what kind of document we could have ended up with.
As you know, this has been and is a state-led process – governments are in the driving seat – in adopting the GCM and in implementing it. From the beginning, there was a recognition that the 23 commitments are non-binding. We all know that if a binding instrument had been proposed, it would never have gone through. But having the 23 commitments means that governments can pick and choose which to implement.
As we move forward – to the IMRF and beyond – I think the role of civil society & academics will be even more crucial. I was disappointed to see in the latest version of IMRF Progress Declaration (v. 3) of 26 April 2022, there are only 3 references to civil society and only one to academia (and, as might be expected 33 references to states). The GCM itself has more references to academia (7) and civil society (5) and its very first commitment is a call for more data, analysis and research.
Elsewhere I have suggested that the 23 objectives of the GCM could be an agenda for research – and I'm sure after your participation in this online course, you can also think of particular research projects on each of the 23 issues. In the lead up to the IMRF – and beyond — I'd like to offer five suggestions for civil society and academic engagement with the GCM going forward.
I urge researchers and civil society organizations to play a robust monitoring role. Look at what governments have committed to do and monitor if and how well they are living up to their commitments. (For example, see the Voluntary GCM reports submitted by some states and keep an eye out for the pledges that are to come). Governments are under pressures from lots of groups on migration issues and they need to feel pressure from their constituencies to do the right thing. This can serve as a countervailing pressure to other interests. I'm a researcher, so perhaps my second suggestion is obvious. We need more research – both basic research and policy-oriented research. In particular, I highlight the need to understand how individuals and households make the decision to move – what are dynamics in the family, how does the intersection of economics, demographics, personal and political factors play out in these decisions, how does this change over time? I'm partial to comparative and longitudinal analysis – how do 2 governments or two municipalities or two recruitment agencies respond to migration and what explains the similarities and differences? We know that migration is dynamic – most people don't migrate and stay put forever. We need more than just snapshots of migration at one particular point in time. We need to look at migration dynamics over several years. We also need new types of data to analyze these dynamics, including big data which looks at social media, GIS and other forms of data.
A third challenge for the field as a whole is how to integrate rigorous academic analysis with the lived experiences of migrants. Too often researchers see migrants as the objects of study but don't include them in the research process itself – except to occasionally sprinkle first person stories in their books and articles. Stories are important but migrants can use their lived experiences as research tools. In this regard, I think much more can be done with migrant-led organizations to participate in policy-making but also to lead on research.
Fourth, we need to unpack the issue of migration drivers and particularly mixed migration (which means different things to different people). We live with an international legal framework that draws sharp distinctions between migrants and refugees – those who move for economic reasons and those who move because of persecution or conflict. This binary framework doesn't always meet the needs of today's migrants, but it's unlikely to change even though we know that the borders between the two are often fuzzy. And they are going to get even fuzzier as awareness grows about the importance of environmental and particularly climate drivers of mobility.
Finally, I encourage civil society and academics to seek to fill some of the gaps in the GCM – for example, the issue of regularization of unauthorized migrants didn't make it into the GCM. The issue of detention, particularly of children, was contentious throughout the negotiations and we need more good evidence on alternatives to detention. The GCM provides important commitments but most are very general statements that need further work to be translated into effective policies – such as the need to develop more pathways for safe, regular and orderly migration. Of course, this has to be context-specific: safe pathways for migrants from Niger and from Honduras will be different.
Civil society organizations and academic researchers have important roles to play in ensuring that the Global Compact for Safe, Orderly and Regular Migration becomes a framework that guides policy and practice – and not just in beautiful words – to serve the needs of governments, migrants, and the many organizations that work on these issues. I hope you feel that the course you have just completed provides you with the expertise and the tools to play your role in making this happen. The issues around migration are simply too important to leave to governments alone.
The GMC initiative was jointly organized by the Cross-Regional Center for Refugees and Migrants (CCRM), the Migrants Forum in Asia (MFA), the International Institute for Migration and Development (IIMAD), Metropolis Asia-Pacific (MAP), and the Global Research Forum on Diaspora and Transnationalism (GFRDT).