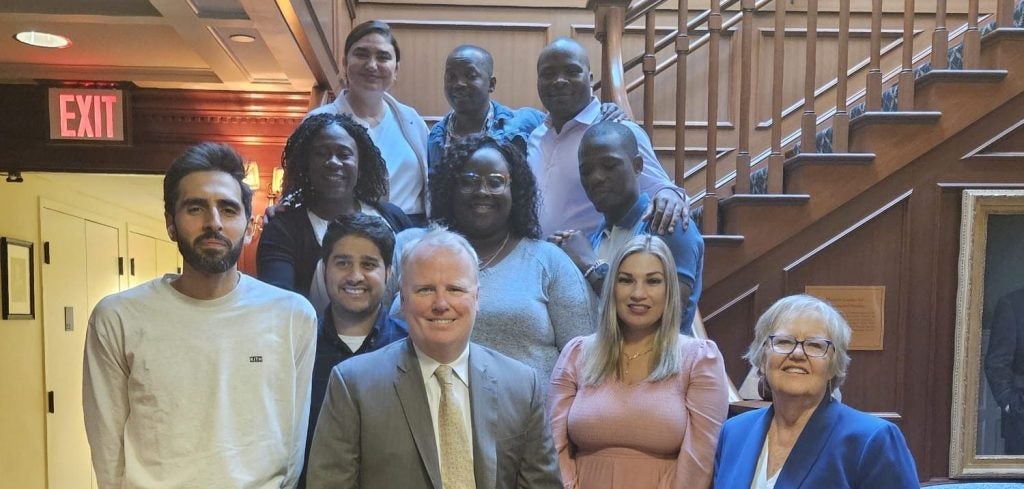 Author: Elizabeth Ferris
In early October 2023, Georgetown's Institute for the Study of International Migration (ISIM) organized a week-long intensive training session for new Refugee Advisors to prepare them to participate in US government delegations to international meetings where policies affecting the lives of refugees are made. The US Refugee Advisory Board, a joint initiative of the Refugee Congress, Refugee Council USA and ISIM, currently has 12 refugee advisors – who can bring their lived forced displacement experience along with their professional expertise into their new roles. The State Department's Bureau for Population, Refugees and Migration is committed to ensuring the participation of refugees in its delegation. Last year, Basma Alawee, a refugee advisor from Iraq and member of US delegation to the, spoke in the opening plenary session of UNHCR's annual Executive Committee meeting. This year, Mohammed Naeem from Afghanistan and chair of USRAB, will participate in the UNHCR meeting. The new cohort of 7 refugee advisors – from Bhutan, Bosnia-Hercegovina, Democratic Republic of Congo, Former Yugoslavia, Jamaica, Liberia, and Uganda – are all experienced advocates at the state and local level. They came together at Georgetown's ISIM to learn about how to take their message to global forums. During the week long course, led by Professor Elizabeth Ferris, advisors worked through simulations and strategy sessions to develop their messages and to refine their strategies on issues of concern to forcibly displaced people. They talked with representatives from the State Department, UNHCR, IOM, civil society organizations and refugee-led organizations about what to expect when they
take up their new positions. Tressa Finerty, a senior State Department Fellow with Georgetown's Institute for the Study of Diplomacy, briefed advisors on how to make sure their messages get through to busy diplomats: do your homework and keep your messages short and focused. The new USRAB advisors were introduced to the DC refugee policy community at a reception held at the Migration Policy Institute. All in all, it was an action-packed week and ISIM was honored to play a part in enabling refugees to have an effective seat at the table where decisions are made that affect the lives of displaced people.