Access to Durable Solutions for IDPs in Iraq
Migration, both forced and voluntary, has long been a major part of Iraqis' lives. Over the past three decades, close to six million Iraqis (out of a total population of 33 million) have been forcibly displaced inside Iraq. Most recently, the Islamic State of Iraq and Syria (ISIS)'s swift takeover of areas of northwestern Iraq, begun in December 2013, has displaced an additional three million Iraqis. As a result, many Iraqis have been doubly- or even triply-displaced while others languish in situations of protracted displacement, with few opportunities to return home, integrate in their host communities, or settle in a third location. This project collects and analyzes data from 4,000 internally displaced households (IDPs) about the three durable solutions of return, integration, or resettlement. The data collection is longitudinal; families were interviewed and surveyed in Summer 2016, tracked and then re-interviewed between December and February 2017. The third wave of data collection is planned for late Fall 2017. The longitudinal nature of the study allows unique tracking of IDP access to durable solutions over time, which will ultimately allow us to understand:
when and why people move;
people's access to and utilization of durable solutions in different contexts; and
the factors that correlate with IDPs finding and creating durable solutions such as different forms of capital—social, economic, or cultural), external aid, and educational opportunities, among others).
This study is receiving funding from the International Organization for Migration (IOM) and the U.S. Department of State, Bureau of Population, Refugees, and Migration. For further information, contact Katharine Donato.
Reports & Publications
The publications resulting from the study follow. More details on the study are below.
Access to Durable Solutions Among IDPs in Iraq: Experiences Applying to Compensation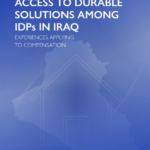 Property damage and compensation among IDPs and returnees, Jan 2020
Access to Durable Solutions Among IDPs in Iraq: Four Years in Displacement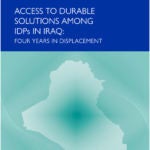 Summary Report From Four Rounds of Data Collection, Nov 2019
Access the report in Arabic here.
Access To Durable Solutions Among IDPs In Iraq: Three Years In Displacement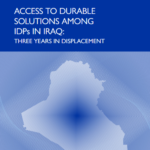 Summary Report From Three Rounds of Data Collection, Feb 2019
Access to Durable Solutions Among IDPs in Iraq: Moving in Displacement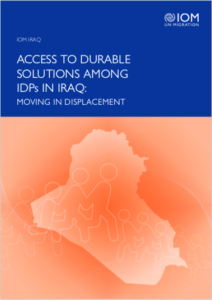 Secondary migration of IDPs and analysis of why IDPs move, Sept 2019
Access To Durable Solutions Among IDPs In Iraq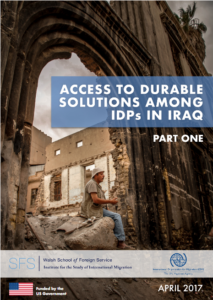 Baseline Report of One Round of Data Collection, April 2017
Articles:
Iraqi IDP Returns to Former ISIS-Held Areas: Findings from a Longitudinal Study on Durable Solutions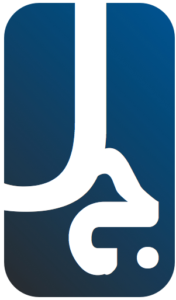 Jadaliyya, October 1, 2018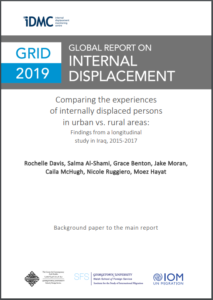 Comparing the Experiences of Internally Displaced Persons in Urban vs. Rural Areas: Findings from a Longitudinal Study in Iraq, 2015 – 2017
Internal Displacement Monitoring Centre, Global Report on Internal Displacement Background Paper, Feb. 2019
Scholarly Papers:
Iraqi IDPs Access to Durable Solutions: Results of Two Rounds of a Longitudinal Study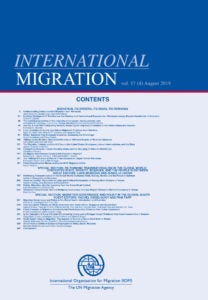 International Migration, 2018. Vol 57, Issue 2
Authors: Lorenza Rossi, Rochelle Davis, Grace Benton, Sinan Zeyneloğlu, Salma Al-Shami
Home After ISIS: A Study of Return as a Durable Solution in Iraq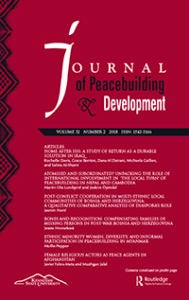 Journal of Peacebuilding and Development, June 2018
Authors: Rochelle Davis, Grace Benton, Dana Al Dairani, Michaela Gallien, Salma Al-Shami